If you're planning a Coron Tour for your next holiday, make sure to review the checklist below. This guide will help to save a lot of time researching when deciding where to go on your vacation. Have a good time!
Kayangan Lake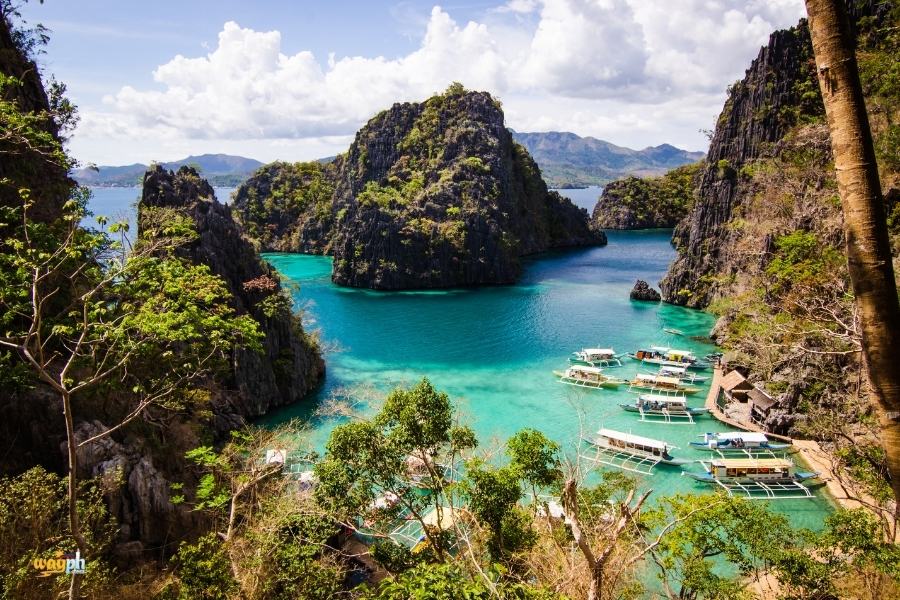 Entrance fee: Php 300/pax  
Kayangan Lake is a freshwater lake located in Coron that is known for its submerged rock formations, exciting caverns, and lovely islets. It is a famous tourist spot for anyone who are into exploratory trips. Due to obvious reasons, it is a popular location for photographers as well because it is arguably to be the clearest lake in the entire Philippines.
As a result of the clarity of the water, you can frequently see the surface to a depth of 32 feet, allowing even non-swimmers to admire the undisturbed rock formations from various vantage points all around Kayangan lake.
Barracuda Lake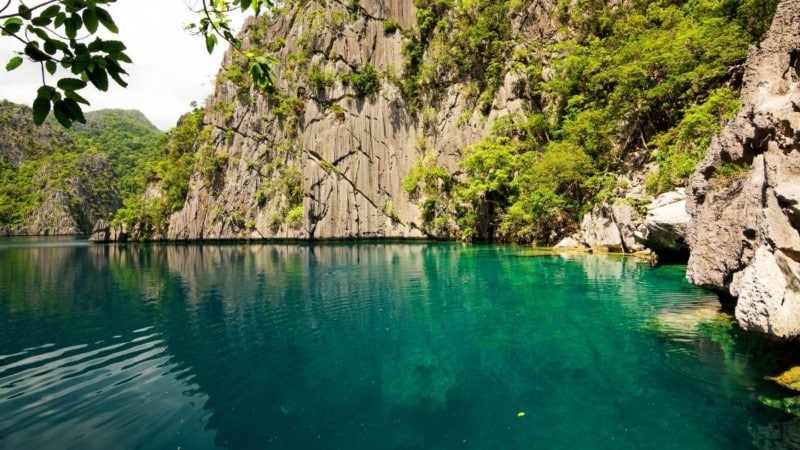 Entrance fee: Php 250/pax  
Barracuda Lake is one of the unique dive sites best known for its Thermocline. It is a natural lake in the remains of a crater – around 40 m deep and is bordered by jagged limestone cliffs. This is a gorgeous location, but getting just after a sailing trip from Coron Island requires an additional 30-minute trek with all of your luggage on your shoulders!
Although the lake is almost devoid of species, you can still glimpse Gobies, Groupers, Shrimps, and occasionally Barracudas! This indicates that the Lake was formerly linked to the sea. Snorkeling here is fantastic because you can see strange and fascinating underwater layers of rock. Additionally, it is a great diving location. The lake's name appears to be derived from a large barracuda that resides there.
Calauit Safari
Entrance fee: Php 250/pax  
The Calauit Safari Park is measured to consist of a 3,700-hectare wildlife reserve and sanctuary on Coron. This place has different types of African giraffes and zebras that are thought to be part of a test to move them to a new location. It used to be called the Calauit Game Preserve and Wildlife Sanctuary, but now it's home to threatened species living in the Calamianes string of the Philippine archipelago. It has been home to over 100 species of gazelle, waterbuck, African eland, giraffe, zebra, the Balabac Mouse-deer Calamian wolf, and the Pheasant Peacock.
Twin Lagoon

Entrance fee: Php 200/pax  
Next up in your list, why don't you try visiting Twin Lagoon? It is a must-see place for tourists because of its ethereal beauty. As it is a twin Lagoon, you will be able to witness the two – the first lagoon being the dock for boats, and the second is concealed in a small crevice. Depending on the tide, it can be over or under the rock.
Unlike the first one, Twin Lagoon's water tends to be blurry as it is linked to mixing salt and fresh water. There are also some differences in the temperature between the two lagoons. You can simply wear your life jacket and drift in the calm lagoon.
Malcapuya Island
Entrance fee: Php 250/pax  
Malcapuya Island is indeed the best place to go if you want soft white sandy beaches and warm, clear water in a completely private setting. This location has one of the best and longest pristine beaches in Coron. There are also a lot of small secluded beaches and coves, which makes it even better. In Malcapuya, you can see the whole Island from some lovely steep outcrops. You can anticipate being accompanied by nature that hasn't been changed in any way.
Bulog Dos
Entrance fee: Php 150/pax  
This is among the most exotic places in the Philippines. As Instagram and YouTube have become more popular over time, their prominence has risen as well. You see beautiful videos and photos show up on your social media feeds every now and then.
Indeed, Coron is a seldom thing for people who want to go on a vacation once in a while. This gorgeous place in Palawan is known for its scenic lagoons, scuba diving, snorkeling spots, great limestone rocks, isolated isles, and more.
Banana Island
Entrance fee: Php 250/pax  
Banana Island Coron is an excellent place to relax and rest after a long day. This is a group of islands located south of Busuanga, which comprised our island-hopping excursion out from the city of Coron. It includes more amenities for those who want to stay the night.
Additionally, it contains shelters and benches where you can rest or eat. You can find a lot of spots where you can sleep or eat as much as possible. That's precisely why many Coron tourists prefer stopping over on this Island – for viewing and resting.
Banul Beach
Entrance fee: Php 150/pax  
Banul Beach is known as Coron's tropical paradise and also one of the most excellent beaches. It is a must-see destination on a much-awaited Coron tour. It's a little beach on the region's northern coast. It is world-famous for its extraordinarily smooth white sand beaches, quiet and clear waters, and surrounding calcareous karst cliffs.
The waters are a beautiful blue and are immaculately pristine, with the towering cliffs offering panoramic vistas. You can sunbathe on the stunning white beaches. Though apart from bathing in the neighboring reef orchard, you can flex your photographic muscles with landscape photography.
CYC Beach
Entrance fee: FREE
Coron Youth Club, often known as CYC Beach, is a stopover on adventurous cruises that can be booked in town. The beach features white sand with stunning crystal clear waves and is scattered with mangrove forests and rocky outcrops, creating a breathtaking beachscape scene. Additionally, folks who wish to have a pleasant stay with their family flock to this location in large numbers.
Siete Pecados
Entrance fee: Php 100/pax  
Siete Pecados is a term for a group of seven natural rocky islets located a few hundred yards off the shore in Busuanga Island. This is among the most popular tourist destinations in Palawan, and it is also the most accessible from Coron town. The coral reefs that cover the islets are among the richest in the country, despite frequent visits by large numbers of snorkelers. This place is rich and abundant with freshwater fish, tortoises, and massive fleets of barracudas.
Mount Tapyas
Entrance fee: FREE
Mt Tapyas, at 688 feet above Coron Town, is undoubtedly one of the best vistas in Coron. When you're up for some movement and want to enjoy a spectacular sunset in Palawan, Mount Tapyas should be a must spot for your next vacation. We advise climbing Mount Tapyas early in the morning or late in the afternoon to enjoy the more excellent conditions. If you attempted to ascend the steps at the day's peak, it would undoubtedly be a struggle in the heat.
Maquinit Hot Springs
Entrance fee: Php 200/pax  
Maquinit is among the world's relatively rare saltwater thermal baths. Along Busuanga Island's southern coast, it is found a half-hour tricycle trip from Coron's main town along a rugged, curving road. According to folklore, the fluid is pumped by an underwater volcano and then surges up into the round pool's two tiers. Residents are advised to visit the hot springs following an exhausting walk to the top of Mt. Tapyas.
Black Island
Black Island, also called as Malajon Island by the locals, is a massive, strange island off the coast of Busuanga. Despite its gorgeous white beaches with tropical forests, it has an ominous atmosphere when viewed from a distance. You will find numerous hidden caverns and isolated beaches to discover as soon as you set foot on the shoreline.
Pass Island
Entrance fee: Php 200/pax  
When you visit Pass Island in Coron, you won't be able to find many people. It has a white sandy beach surrounded by palm trees and a spectacular view of the waves crashing just on the open sea. This is a tiny island that is which is just outside Busuanga. There are a lot of ways you can go to Pass Island. At least two hours through a regular boat. One can also take the bus to Concepcion. Many tour operators in the city also give trips to this mainland all the time.
Lusong Coral Garden & Gun Boat
Entrance fee: Php 100/pax  
As you lay on the purest white sand and take a dip in the clear waters, your feet will be relaxed. Because why not?  The Lusong Coral Garden & Gun Boat are some of the rare treasures in the Philippine islands that you can see on this tour. Upon this Island Adventure Tour, you'll see many a great many things in the sea.
Culion Island
Entrance fee Culion Museum: Php 250/pax  
Have you ever heard of Culion Island? Because the chances of tourists hearing this place is lower than usual. Some actually say that they have never heard of this place. However, this is a remarkably beautiful and well-preserved spot for tourists to go on. You can get a new experience of historic allure and other underwater seascapes.
Culion is an excellent place for isolation and remoteness as you can recharge and reflect on your life. It is a famous venue for quiet trips and simple retreats for those who don't like having much of a crowd. Enjoy a place that not many know about. That's Culion Island for you.
Beach 91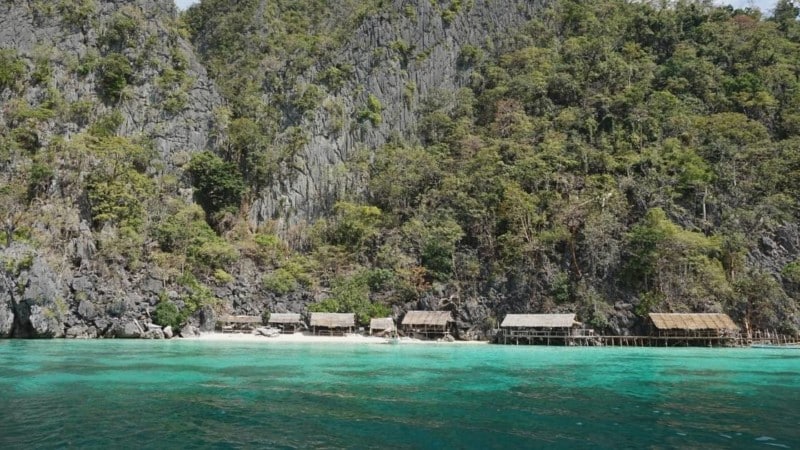 Beach 91 is one of the must-visits if you ever want to go on island hopping tour in Coron. And it is not just for the spectacular landscapes but for the relaxation as well. As you may know, Coron is a stopover for touring in the Islands of Coron every lunchtime or just when you want to rest after a long journey.
It is a white sandy beach that is viewed with tons of wooden huts and floating bridges for other huts to meet and connect. Some leisurely activities are available on the Island if you are still up for action. However, the majority prefer a place for resting and eating.
 Coron Town
If you're exhausted from swimming, trekking, and participating in various other activities, why don't you come to sit and fish with us? As you may be aware, Coron Town is regarded as a fishing community with a small population, which makes it a desirable destination for travelers looking for a relaxing getaway.
With a population of less than 40,000 people, little town becomes a pleasant destination for throngs of tourists and visitors who pass through. It is now considered to be one of the most popular tourist destinations in Coron due to its natural beauty and refreshing attributes.
Sunken Japanese Wrecks
Sunken Japanese Wrecks, which are favored with divers from all around the world, allow brave underwater adventurers to uncover a seaplane carrier, gun boats, freight ships, and submarine hunters sunk by Americans in 1944, among others other things. Investigate cargo compartments, the engine rooms, and even the machine shop. You can also look for anti-aircraft cannons on the top decks if you can find them.
Swim alongside sea horses, banana fish, turtles, gigantic puffers, and sea snakes, and keep a watch out for scorpion fish and barracudas as you explore the underwater world. In the vicinity of Lusong Island, a wreckage of a cruiser covered in marine habitats is a particularly excellent place for snorkeling. It can also serve as a suitable resting place during dives.
Mt. Darala
Mt. Darala is our last but not the most minor recommendation for your tour. In case you didn't know, it is the highest mountain in all of the Calamianes, making it an attraction for mountain climbers and adventurers. Upon getting on the peak of this 600 MASL mountain, you can view the whole Busuanga and as well as the Calamian's group of Islands.
As it is a mountain, it is recommended to go on early mornings so that climbers will not have to face the rough sunlight. It is a tough climb indeed, however, all of the climbers that got over the mountain left with satisfaction from the glorious landscape.